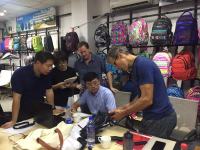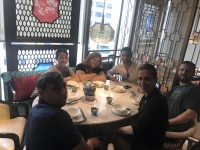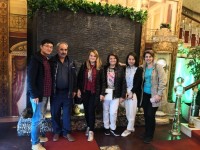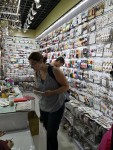 Who we are?
RND was founded by Riona and Nick in 2007, located in Yiwu, China which is the biggest international wholesale market in the world. Thousands of buyers come to source and purchase in Yiwu market every year. The original idea of RND was to help friends abroad solve their problems in communication with China factories and take care of the quality control of the production. As the demand of this service keeps increasing, it became our main business ever since. In the past 16 years, we built up trusting relationship with clients from more than 50 countries. Some of them are part of our family now and keep visiting us not only for business. Due to the years of experience in most of categories, we built up a good resource of reliable and cooperative suppliers. 6 years ago, we started working with Amazon and Shopify sellers in products sourcing, developing, bundling, packaging, manufacturing, suppliers managing, FBA shipping, etc. With our help, more and more of their products are becoming Amazon Choice and Best Seller. We care about our clients and friends. A good reputation stands forever.
Founders' Story.
RND stands for Riona, Nick and Darren, that is us all in our family. Yes, this is a family owned business, like many others, we put all of our strength and heart into it.Riona and Nick met each other on the first day of college. The story has lasted for 20 years and will go on.
They both had dreams after graduation. Riona thought it would be fun of being an English tour guide. So she had worked in one of the most famous history museums in China for 2 years. She really enjoyed introducing these world wonders with more than 2,000 years history to the foreign tourists. She keeps improving herself by learning new knowledge and skills and finally took the MBA degree in 2021.
While Nick found his passion in international exporting business. He joined a motorcycle factory as a salesman to start, then worked for an American all-terrain-vehicle factory in China as the CEO assistant at age of 25 because of his capacity, experience and language skills, which also brought him offers from some Fortune 500 companies, like John Deere.
During their work they found that foreigners had difficulties in communication with Chinese people or factories, which results in serious problems or losing orders. More and more clients talked to them and wanted them to be the representative in China. In 2006, they decided to start their own business as sourcing and purchasing agent in their own apartment. The trust from their customers brought them responsibilities and made a life-through career start. The arrival of their child,Darren made RND complete in 2012 officially.
Over the past 16 years, RND has helped hundreds of clients around the world source products, communicate, negotiate and consistently follow up with suppliers in China and export the cargo to the world. They work as if their company were a synergistic department of their clients, solving problems and making their clients business easier and more efficient.
They intend to continue contributing everything they have to this business for the next 50 years and more, just like the life they have built together. Quote from Darren,"I wanna learn all about the business to inherit RND".